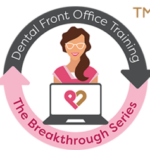 Welcome to Dental Front Office Training by Prosperity Dental Solutions
Please navigate throughout the course below, keeping in mind each module has a quiz that needs to be completed before moving to the next module.
For Hot Seat Coaching or Role Play Request, please submit this form > LINK
For Open Q&A – what we call Behind The Mask – please submit your questions through this form > LINK keeping in mind these will be discussed during our monthly calls however, we will not share the names of those who asked the questions.
Our Live Monthly Calls are held every 3rd Thursday of the Month from 12p-1p CT. Here is our Zoom Link.